5 Star Nature
LAG Montagne Biellesi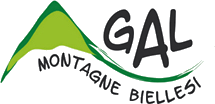 LAG Montagne Biellesi in Italy. The Biella mountain area is a territory that extends from the hill to the high mountains, in a succession of agricultural landscapes that give way to woods and rocks. In the Biella mountains, divided into three valleys, Mosso and Sessera, Elvo and Cervo, there are farms that deal with cultivation and breeding, ranging from the production of cereals to wine passing through the production of milk and therefore its transformation into cheese.
They are territories in which residency is still widely present and in which a certain propensity towards hospitality and receptivity has developed in recent years. The Biella area is suitable for outdoor sports, hiking, biking, horseback riding, but also for skiing and winter sports, especially in the area of the Zegna Oasis.
The Biellese mountains, which exceed 2000 meters at its highest points, are in a central position, in Piedmont, in northern Italy, between the large cities of Turin and Milan, but are only an hour's drive away, or a little more, from the Langhe and from the Piedmontese territories famous for their food and wine, the truffle, the wine: it is a strategic location that makes the area perfect as a starting point for a 360 ° tourism and not only naturalistic, but also linked to art and culture.
Visit Website